Kale Chips!
Great idea for a nutritious snack! They are crunchy like potato chips but low cal, low carb and a great way to get your dark leafy green veggies!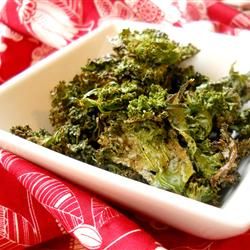 1 Bunch of Kale
1 Tbs (or less) of Olive Oil
Salt
Preheat oven to 350 degrees.
Wash Kale, remove tough stems and cut leaves into bite sized pieces. Be sure to remove as much water as possible. Use a salad spinner or set the kale on a clean towel to remove excess moisture.
Put Kale pieces in a zip lock bag with olive oil and salt, seal it and shake it up to coat the kale evenly.
Spread the kale in a single layer on a cookie sheet covered either with foil or parchment paper.
Don't overcrowd the kale so it can dry out and get crispy.
Bake in the oven for 15 - 30 minutes, check it often and turn as needed and remove the pieces that are ready. I put the chips on a paper towel to remove any excess oil and keep them crislpy!
ENJOY!
This recipe makes about 6 servings.
Nutritional Information
Baked Kale Chips
Servings Per Recipe: 6
Amount Per Serving
Calories: 58
Total Fat: 2.8g
Cholesterol: 0mg
Sodium: 185mg
Total Carbs: 7.6g
Dietary Fiber: 1.5g
Protein: 2.5g